Ford Service Center Serving Tylertown, McComb, Summit and Magnolia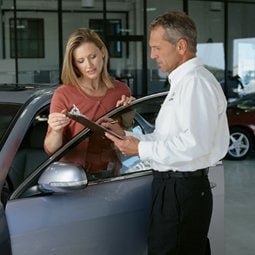 Other than real estate, your car is one of the most important purchases you're likely to make. At the Keith White Ford Service Center, we recommend following the manufacturer's recommended maintenance timetable. Whether you live in Tylertown, Magnolia or Summit, bring your new or used Ford vehicle to Keith White Ford to keep it running smoothly. You might save money in the long run, because, as they say, an ounce of prevention is worth a pound of cure. That's the reason customers from McComb, Brookhaven and Magnolia trust their cars to the professionals at Keith White Ford.
The factory-trained technicians at the Keith White Service Center are experts on all Ford cars, trucks, crossovers, SUVs and minivans. We can service and repair your car quickly and safely, whether you have a late model, Ford Fusion, a Mustang that's a few years old, or an F-150 that's been around the block a few times. We use the latest technology to diagnose and repair your Ford. And we always use genuine Ford parts. So, head over to our Ford Service Center in McComb when it's time for service.
Our service team can handle every job, from an oil change and brake repair to engine work and tire rotation. If you're driving in the Tylertown, Magnolia or Summit area and your engine light comes on, drive over to Keith White Ford and we'll diagnose the problem quickly.
Customers in Kokomo and Magnolia know that Keith White Ford Service Center always provides exceptional customer service. That's the reason our customers come back when they need service and they recommend us to their friends in the McComb area. In addition to our everyday low prices, we provide service coupons to help you save even more money.
Call us at 888-221-3218 to make your service appointment or schedule service right from our website. Our service department is open Monday through Friday from 7 a.m. to 5:30 p.m.
Keith White Ford Answers Questions Many McComb Drivers Have About Car Services
Sometimes, asking questions about car services can be awkward or intimidating to folks, or maybe you just don't have the time to call up a dealership and get the information you need. Keith White Ford is here to help answer some common questions we get about car services. There are many moving parts to any given automobile, and we want to break down some information for Summit, MS, residents and help drivers feel more empowered in their knowledge surrounding their vehicle.
FAQ's About Common Services and Answers from Kevin White Ford
How Often Should I Have the Oil in My Vehicle Changed?
The best and most common answer you will get for how often you should change your oil is every 3,000 miles or every six months, whichever comes first. Some automotive brands allow you to go even longer without an oil change, but across the board, every three months is a tried and true amount of time between oil changes that will effectively maintain your vehicle's health.
Does My Vehicle Need Brake Service?
Short answer, maybe! Depending on the automotive brand and brake pad quality, your brakes should be changed roughly every 10,000 to 20,000 miles. Drivers can tell that their brakes may need attention earlier than that if they can feel a shudder in the brake pedal or when that incessant brake squeal begins.
How Do I Know My Battery Needs Changing?
Your battery life can be well maintained by ensuring all lights are off and doors are closed when you exit your vehicle. If you are starting to wonder where your battery life level is, you can visit Keith White Ford for a free battery life check.
Why is it Important to Rotate My Tires?
To ensure proper tread wear, drivers must get their tires rotated. A great time for a rotation is when you bring your car in for an oil change, so roughly every 3,000 miles or every six months. If drivers fail to rotate their tires, it not only costs you more money in the long run, the tread can get dangerously low too quickly and cause serious damage to your car, truck, or SUV.