KEITH WHITE FAMILY PLAN | $3,000 ADVANTAGE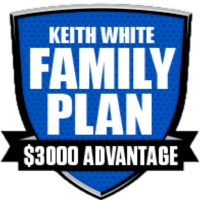 Our Family Plan Advantage is our way of showing you we are committed to serving you and your vehicle like family...
We want you, our customer, to know and understand that we value you not just at the time of the sale, but also as you continue to own this vehicle. That is why we offer this Family Plan to you, our customer, at no additional cost. We hope this gives you peace of mind from day one and continues for as long as you own that vehicle.