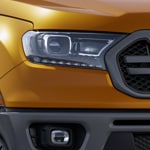 The New Ford Ranger Lineup

The Ford Ranger is a tough light-duty pickup truck that is classified as a mid-size pickup truck model. There are several new features that are available for the new Ranger, such as four additional exterior color options. Select between three trim configurations for the new Ford Ranger.

The Ranger Powertrain

Every Ford Ranger is powered by a turbocharged 2.3-liter four-cylinder engine. The engine of the Ranger produces 270 horsepower and 310 pound-feet of torque, allowing the truck to move efficiently over a variety of terrains.