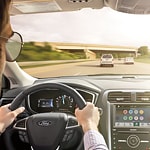 The Ford Fusion is one of the most popular cars in America. The first Ford Fusion was introduced in 2006, and since then there have been six new models released. One of the newest features on the Ford Fusion is a remote start that can be done from your smartphone! This means you can set your car to warm up before you even get there. It's great for cold winters or hot summer days when you don't want to stand outside waiting for your vehicle to heat up and cool down respectively.
Other notable features are adaptive cruise control, lane departure warning with lane keep assist, collision warning with brake support, Blind Spot Information System (BLIS), cross-traffic alert, rain sensing wipers and rear view camera as well as a host of other things to make your driving experience better.
The remote start feature is activated with an app on the users smartphone. They connect via WiFi and once installed, you can control many features from anywhere including starting, locking/unlocking doors, honking or flashing lights for anyone in front of your car (great for when you are stuck in traffic).