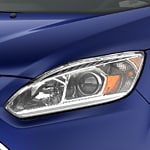 Ford vehicles are appealing to many people, and the manufacturer has produced highly-reviewed cars, trucks, and SUVs of all sizes recently. One of the best ways to get access to a good Ford is a certified pre-owned model.
Certified pre-owned is a program that some manufacturers, including Ford, operate to ensure quality in the used vehicle market. A CPO vehicle goes through special inspections to make sure that it is in good condition. Then Ford sells it with an extended warranty and other benefits.
The CPO program takes a lot of the risk out of buying used because you are protected by the warranty and the special inspection means it will be in good working condition when you buy it. A CPO vehicle has the lower price of a used one but without the concern that it will fall apart quickly.