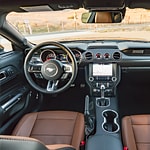 When you sit inside the driver's seat of the new Ford Mustang, you are putting your hands on the steering wheel of an American classic. The new Ford Mustang shows the power of an American muscle car with design and performance handcrafted to perfection from year to year.
Ford Fuses Performance With Fuel Economy
Perhaps the best part about the Ford Mustang is its capability to fuse performance with fuel economy.
Running around 30 mpg on the highway is ideal, and it feels so much better to be doing it in a powerful and attractive vehicle like the Mustang.
Prepare Yourself For American Power
The Mustang is an American standard when it comes to forcing. For example, the EcoBoost Fastback is the most basic model has 310 horsepower--that's enough to have a good standing on any highway in the world.