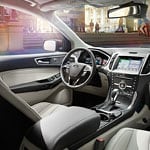 McComb drivers are always on the lookout for the next sensational midsize SUV. As it stands, the ravishing Ford Edge is currently catching everyone's eye. This profoundly sleek ride is notable for showcasing a detail-oriented approach to design. Thus, flawless aesthetics are simply inevitable with the latest crossovers in this automaker's impressive lineup.
A prescient interior arrangement grants an assortment of mindful perks. The subtle inclusion of an easily accessible USB port is one particularly clever addition that enshrines worlds of convenience. With this feature, a quick charge is always available when you need one.
For an all-encompassing perspective, the sublime 180-degree camera system ushers unparalleled clarity in motion. This fashionable installation makes a technologically suave statement while boosting safety in an intelligently proactive manner. To stay on top of the fiercest automotive trends, you should definitely partake in a Ford Edge test drive by visiting Keith White Ford-Lincoln's state-of-the-art showroom.