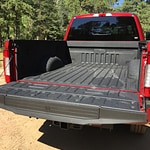 The 2020 Ford Super Duty is a truck that lives up to its name. It has the ability to tow up to 8,500 pounds. Not only is it great for hauling and towing, but it is also great for off-road adventures. Additionally, it has productivity features that are designed to get the job done.
It has a Lane-Keeping alert. We have all had times when we may not have been paying attention to the road and drifted out of our lane. However, the Lane-Keeping alert will help you stay in the right lane. If you have wandered too close to the edge, then an alert will go off.
Towing a trailer can be a risky task. However, the 2020 Ford Super Duty has trailer sway control. It will adjust the engine and apply the brakes if necessary. If you want to try the Ford Super Duty, then you will need to visit the dealership.