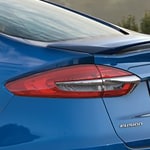 One of the most popular midsize sedans on the market today is the Ford Fusion. That is why our team of sedan experts here at Keith White Ford-Lincoln are so excited to tell you all about some of the amazing performance features found in the all new 2020 model!
One of the most amazing things about the all new Fusion is its fuel efficiency. This sedan is able to achieve up to 43 miles per gallon making it one of the most efficient in its class. Also, with up to 245 horsepower, this car has more than enough power to always get the job done.
Think the 2020 Ford Fusion might be the perfect match for you and your family? Then feel free to give us a call to schedule a test drive or simply stop by in your free time to speak with one of our incredible sales associates today!