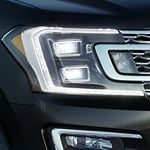 The 2020 Ford Expedition comes adequately equipped with a 3.5-liter V-6 engine that is coupled with a 10-speed automatic transmission. You can opt for all-wheel drive or front-wheel drive. If you're looking for horsepower, you'll achieve about 375 horsepower with the XLT and Limited trim levels. If you opt for the higher trims, you'll get a little but more power (400 horsepower).
An independent rear suspension provides superior handling and comfort. You can comfortable tow up to 9300 pounds of cargo, which is superior to all other vehicles in its class right now. Your fuel efficiency sits comfortably around 17 miles per gallon in the city. Twenty-five miles per gallon can be achieved on the highway.
Overall the Ford Expedition is designed with power under the hood, but it's also a vehicle that has a lot of comfort provided with it.