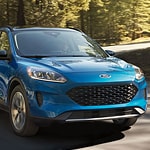 While there are many types of vehicles to choose from today, the Ford Escape likely provides most of what you need. This is a popular compact SUV that has developed into a comfortable and convenient vehicle to drive all over Mccomb. You will love the features that have been added to its design through the years.
The digital instrument center allows the driver to customize it to display the exact data that is most useful. You get to decide what you see there. The display itself is 12.3-inches, so it is easy to see no matter how you have the steering wheel positioned.
When it comes to cargo space, you will love how much is available on the Ford Escape. You will get even more space when you lower the rear seats. They are in a 60/40 split configuration to make that even easier. A test drive can be arranged when you visit Keith White Ford-Lincoln.