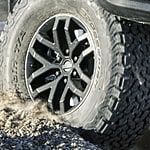 The Ford F-150 Raptor is one of the top performing pickup trucks on the road. With its unique style and design, the Raptor is sure to turn heads all around McComb. Ford has packed the F-150 Raptor with enough power and performance to handle anything thrown its way.
With six different engines to choose from you can count on the F-150 Raptor to the truck for the job. It is able to produce plenty of power for all of your hauling and towing needs while still maintaining excellent fuel efficiency.
Three of the engines with the F-150 Raptor are paired with a 10-speed automatic transmission that is built to handle anything. You can even choose from a number of driving modes that match your needs. The Raptor offers choices for normal driving, towing or hauling, wet or snow conditions, EcoSelect for fuel efficiency, and a sport mode for increased acceleration.